Happy Sundance! We kick off day one of the festival with a preview of our coverage. Also, Managing Editor Rebecca Martin will be attending the opening press event today with Festival Director Tabitha Jackson, Director of Programming Kim Yutani, Senior Programmer and Chief Curator, New Frontier Shari Frilot, and Senior Programmer and Director of Strategic Initiatives John Nein. Stay tuned for her piece on the virtual event.

Find our latest #sundance dispatches at Cinema Femme Sundance Central and on our socials (@cinemafemmemagazine IG/FB @cinema_femme Twitter). We will be bringing you interviews and reviews by our Sundance power team: contributing writer Dawn Borchardt, contributing writer Matt Fagerholm, and managing editor Rebecca Martin.





MIJA
Feature Documentary | Directed by Isabel Castro | 2022 | USA | English 

Mija is an immensely emotional and intimate portrait honoring the resilience of immigrants and their children. Director Isabel Castro's debut feature constructs an ethereal love letter to their indomitable spirit in the face of constant instability, and heartily affirms that all humans have the right to shine and to dream.

*Written interview with director Isabel Castro and subject Doris Muñoz coming soon.


BRAINWASHED: SEX-CAMERA-POWER
Feature Documentary | Directed by Nina Menkes | 2022 | USA | English 

Building on her influential cinematic talk, Sex and Power: The Visual Language of Cinema, film director Nina Menkes takes us on an eye-opening journey through the gendered politics of shot design. Using more than 175 film clips from canonical Hollywood favorites and cult classics as well as interviews with filmmakers and scholars, Brainwashed reveals a sinister framework of misogyny and paternalism that, from early cinema to the present day, infiltrates some of our favorite movies.

*Written interview with director Nina Menkes coming soon.


TO THE END
Feature Documentary | Directed by Rachel Lears | 2022 | USA | English 

To the End goes behind the scenes of a social and political movement where young people reject the cynicism and complacency of a power structure that has failed to meaningfully address the existential threat we face. Director Rachel Lears (Knock Down the House) crafts an urgent coming-of-age story of a movement, told through the narratives of four instrumental young leaders and women of color — Alexandria Ocasio-Cortez, Varshini Prakash, Alexandra Rojas, and Rhiana Gunn-Wright. 

*Written interview with director Rachel Lears coming soon.


HONK FOR JESUS. SAVE YOUR SOUL.
Feature Narrative | Directed by Adamma Ebo | 2022 | USA | English 

Filmmaking power duo the Ebo twins (writer-director Adamma Ebo, producer Adanne Ebo) make their feature film debut in this adaptation of their previous short film of the same name. Partially shot in faux-documentary style, this lively satire on for-profit religion explores both the on-camera desperation in image rebranding and the hard truths that fester behind the scenes. The humor is big and biting in both writing and performance, reaching lofty heights with Regina Hall and Sterling K. Brown in lead roles.

*Video interview with writer-director Adamma Ebo, producer Adanne Ebo coming soon.


SIRENS
Feature Documentary | Directed by Rita Baghdadi | 2022 | USA/Lebanon | Arabic/English 

True to their name, Slave to Sirens — the first and only all-woman thrash metal band in the Middle East — are utterly magnetic. Amid a backdrop of political unrest and the heartbreaking unraveling of Beirut, five bandmates form a beacon of expression, resistance, and independence. Director Rita Baghdadi follows founders and guitarists Lilas Mayassi and Shery Bechara as their tenderness, and sometimes bitterness, for one another grows in ways both unexpected and deeply moving.

*Faux Reel podcast interview shared on cinemafemme.com. Interview by contributor Dawn Borchardt with director Rita Baghdadi coming soon.


PALM TREES AND POWER LINES
Feature Narrative | Directed by Jamie Dack | 2022 | USA | English

Increasingly dissociated from lazy, drunken hangouts and perfunctory hookups with her immature peers, bored, aimless 17-year-old Lea is intrigued by older-man Tom after he rescues her following a reluctant dine-and-dash at a local diner. Initially wary (he's twice her age!), Lea finds that Tom's focused attention fills a deep, unspoken need, and Lea's investment in their relationship quickly supplants her already tenuous ties to her distracted single mom and loose-knit friend group. But Tom's initial patience and willingness to let Lea take the lead gradually gives way to a dynamic in which his awareness of the power he holds is distressingly clear.

*Written interview with director Jamie Dack and star Lily McInerny coming soon. 


GIRL PICTURE
Feature Narrative | Directed by Alli Haapasalo | 2022 | Finland | Finnish/French

Best friends Mimmi and Rönkkö work after school at a food court smoothie kiosk, frankly swapping stories of their frustrations and expectations regarding love and sex. Volatile misfit Mimmi, unexpectedly swept up in the thrill of a new romance with Emma (a driven skater training for the European championships), struggles to adjust to the trust and compromise required by a lasting relationship. Meanwhile, the offbeat, indefatigable Rönkkö hits the teen party scene, stumbling through a series of awkward encounters with members of the opposite sex while hoping to find her own version of satisfaction.

*Video interview with director Alli Haapasalo and stars Aamu Milonoff, Eleonoora Kauhanen, and Linnea Leino coming soon. 


MASTER
Feature Narrative | Directed by Mariama Diallo | 2022 | USA | English |

At an elite New England university built on the site of a Salem-era gallows hill, three women strive to find their place. Gail Bishop (Regina Hall), just instated as "Master," a dean of students, discovers what lies behind the school's immaculate facade; first-year student Jasmine Moore (Zoe Renee) confronts a new home that is cold and unwelcoming; and literature professor Liv Beckman (Amber Gray) collides with colleagues who question her right to belong. Navigating politics and privilege, they encounter increasingly terrifying manifestations of the school's haunted past… and present.

*Written interview with director Mariama Diallo and cinematographer Charlotte Hornsby coming soon.

 


Our capsule reviews will be written about various films. We've got our list, starting with FIRE OF LOVE that premieres tonight.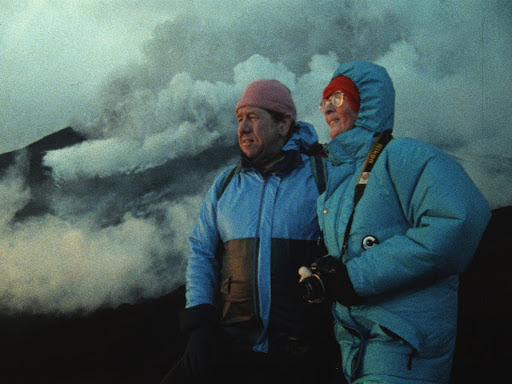 FIRE OF LOVE
Feature Documentary | Directed by Sara Dosa | 2022 | USA/Canada | French/English

Katia and Maurice Krafft loved two things — each other and volcanoes. For two decades, the daring French volcanologist couple were seduced by the thrill and danger of this elemental love triangle. They roamed the planet, chasing eruptions and their aftermath, documenting their discoveries in stunning photographs and breathtaking film to share with an increasingly curious public in media appearances and lecture tours. Ultimately, Katia and Maurice would lose their lives during a 1991 volcanic explosion on Japan's Mount Unzen, but they would leave a legacy that would forever enrich our knowledge of the natural world.

SUNDANCE FESTIVAL SITE