With the success of our first hybrid (in-person and online) film festival, we wanted to bring back some of our shorts for one last weekend! All of these films received an award on our final official day of our festival on Thursday, May 4. See list of films that you can access this weekend below, along with the info about their awards. Watch 2023 AWARDS CEREMONY on our YouTube channel!

And congratulations to ALL of the filmmakers whose excellent work screened at this year's festival. You are all winners in our book!

Cinema Femme Short Film Fest is proud to be sponsored by Neon Heart Productions, Prysm Studios, Noisefloor, and Hike Creative. Our festival is fiscally sponsored by IFA Chicago!
ABOUT THE ENCORE FILMS
GREY FEATHER – DIR. SOPHEA KIM
Sarita is a young Cambodian girl meets and gets along with Sam, and Australian man who comes to settle down in Cambodia. Their love is very deep and beautiful. However, they have to challenge; to face it when it comes to their daily life, within their different background, culture and their believes.
It's time for them to understand themselves before they know which way they are going to choose.
"Grey Feather," is the winner of the Audience Favorite Award

Audience Favorite Award: This award is given to the film that is the most watched and has the highest ratings. The film recipient will receive a laurel and announcement of their award in a press release.
this is not the morning i thought i was going to have – DIR. MARGARET KELLAS
Two estranged sisters are forced to reunite on a sweaty Chicago day. As the car comes to a boil so does their tolerance for one another.
Margaret Kellas, director of "this is not the morning i thought i was going to have" is the recipient of the Chicago Spotlight Award
WATCH LIVE online Q&A with director Margaret Kellas on 5/15 at 2 PM central
Chicago Spotlight Award: Awarded to a Chicago-based filmmaker recognized for the exciting work they are doing in the Chicago filmmaking community. Chosen by the festival in-person audience, the prize is a video interview that will be featured on our YouTube platform shared on the festival website and other Chicago media platforms. The winner will also receive a one-year video streaming distribution opportunity on Chicago-based Pixquid, a community-driven, ad-free, platform that offers unique-story content, exclusively showcasing work by established and emerging creative talent in film, art and music.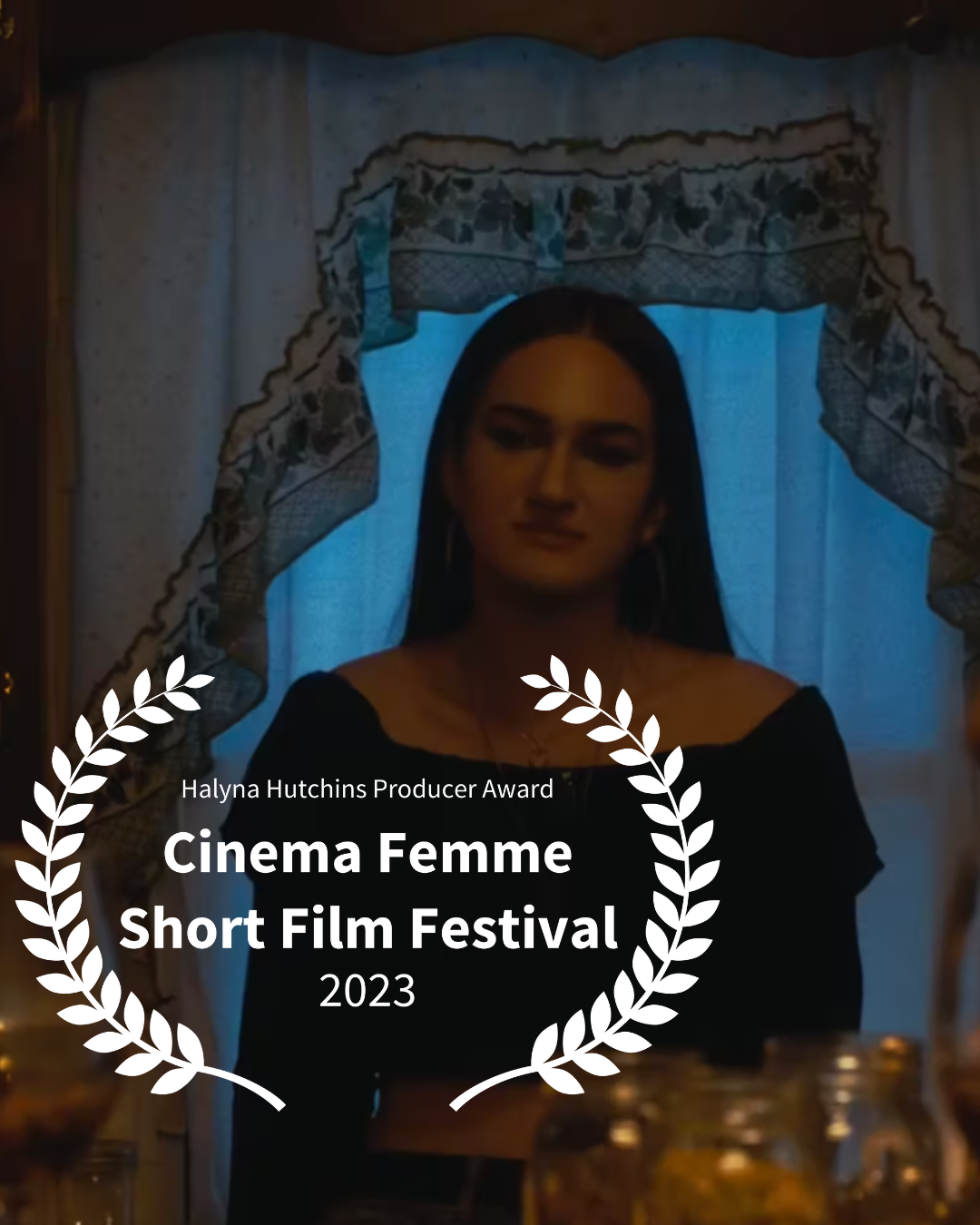 THE MARK – DIR. DEBORAH KAMPMEIER, PRODUCED BY ANNAROSA MUDD
Gracelyn (Sophia Adler) has trained herself in witchcraft ever since being taunted by a group of girls in middle school and excluded from their "coven." Now in their twenties, one of those girls, Annie, brings her boyfriend by for a visit…carelessly unaware of Gracelyn's new powers.
Annarosa Mudd is the recipient of the Halyna Hutchins Producer Award for her exemplary management of creating and fostering a safe set for "The Mark"

Halyna Hutchins Producer Award – Awarded to the producer of one of the selected films for exemplary work at managing crew and creating a safe set.
ALBION ROSE – DIR. TIFFANY TENILLE
Following the arrival of an unwanted guest, a tightly-knit bond between two sisters is put to the test when their idyllic playdate takes a dark turn. Supported by The Future Of Film Is Female, ALBION ROSE is a late bloomer's coming-of-age drama with hints of magical realism and dark fairytale elements that paint a delicate, yet emotionally charged portrait of sisterhood, loss, and the healing powers of fantasy.
Tiffany Tenille is the recipient of the Phenomenal Person in Film Award for her work as a filmmaker and for her film "Albion Rose".

Phenomenal Person in Film Award – This award is given to a filmmaker that most exemplifies the mission at Cinema Femme in their work and in their lives. Its mission is about supporting emerging women and non-binary filmmakers in the industry. The recipient of this award will be chosen by Rebecca Martin Fagerholm, Festival Director of Cinema Femme Short Film Fest and Managing Editor of Cinema Femme magazine, awarded with an interview and featured on cinemafemme.com
CAROLINE – DIR. JULI DEL PRETE
22 year-old Caroline enters the audition room with a big smile, a laundry list of special skills, and a fresh diploma from one of the best theatre programs in the country. On the other side of the table are a bumbling assistant, flippant casting director, and world-famous director. It's the biggest audition of her life — but how far does she want to go to land the role?
Told through the lens of the DSLR filming her audition, "Caroline" explores the places in our industry where consent falls through the cracks.
Juli Del Prete and her film "Caroline" is the recipient of the Critics' Choice Award.

Critics' Choice Award: Recognized by a film critic, this winner will be chosen, written about, in an upcoming feature on cinemafemme.com. Past winners have been Weronika Szalas (CURIOUSER AND CURIOUSER), Jaqueline Xerri (MONKEY BARS), Emma Thatcher (FLETCHER), and Sarah Sherman and Jessica Barr on SEPTEMBER.
Breaking Down Walls Mentorship Award: Four filmmakers will be selected for our six month Breaking Down Walls Mentorship Program. These filmmakers will be chosen by our 2023 mentors. This year's mentors are filmmaker Isabel Sandoval (LINGUA FRANCA), actress Melora Walters (MAGNOLIA, COLD MOUNTAIN, PEN15), TV/film editor Stephanie Filo (A BLACK LADY SKETCH SHOW), and producer Julie Keck. Read more about these mentors on the festival
PANDA – DIR. SASHA BRIGGS

On Chef Antonia's birthday her estranged mother pays a surprise visit to the restaurant. Struggling with feeling abandoned by her Mum when her twin brother died ten years ago, Antonia imagines her brother urging reconciliation.

Sasha Briggs is the recipient of the 2023 Breaking Down Walls Mentorship Program, her mentor is director Isabel Sandoval ("Lingua Franca").
DOIS ESTA´GIOS (TWO STAGES OF BLOOD) – DIR. LUA BORGES
A documentary that explores the beginning and end of a bloodline. Starting in the urban environment of São Paulo city where the filmmaker was raised and ending on her family's country farm where her grandparents spend their golden years, the film delves into the personal and shared history of a Brazilian family, and the explorations of a longing memory.
Lua Borges is the recipient of the 2023 Breaking Down Walls Mentorship Program, her mentor is actor and filmmaker Melora Walters ("Magnolia")
HERLY – DIR. RACHEL RAMBALDI

HERLY is a dark comedy/drama about siblings who experience the same childhood wounds and the very different life paths they choose.

Rachel Rambaldi is the recipient of the 2023 Breaking Down Walls Mentorship Program, her mentor is tv/film editor Stephanie Filo (A Black Lady Sketch Show).
SULAM (THE LADDER) – DIR. NOAM ARGOV
Twelve year-old Alma and her mother are recent immigrants to the outskirts of Central Florida. On a tense morning before school, they wake up to find part of the ceiling in their apartment leaking and journey to buy a ladder at a local hardware store. What starts out as a simple shopping trip, however, quickly escalates. As Alma refuses to help translate and aggressively removes herself from the situation, boiling tensions test their relationship and co-dependence.
Noam Argov is the recipient of the 2023 Breaking Down Walls Mentorship Program, her mentor is Chicago-based producer Julie Keck.